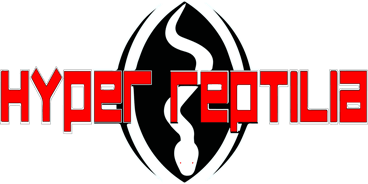 Terms and Conditions
Welcome to Hyper Reptilia!
These terms and conditions outline the rules and regulations for the use of HYPER REPTILIA's Website, located at https://hypereptilia.net.
PAYMENT:
PayPal and Major credit cards are accepted however, all payments must clear our bank before we ship
out. Normally takes 1-3 business days.
Deposit/Payment Plans:
We will need a minimum non-refundable 25% or 50% deposit to hold the animal depending on the
price. A deposit must be made in order to be considered for a payment plan. Payment plans are only
offered at our discretion.
Package(s) containing live animals MUST be signed for upon first delivery attempt by carrier. If not
signed for at the first attempt all guarantees are VOID. If picking up from shipping center it must be
picked up within that same day of arrival.
We will not be responsible for delivery service error.
No Refund on shipping and handling charges.
Upon receipt of the shipment the animal(s) must be inspected for health and well being immediately.
The buyer will have 2 hours from the time of receipt to contact us for any concerns regarding
discrepancies with the shipment, especially for "dead on arrival"; animals. We will not be responsible for
any missed emails, text or voice messages due to technical or other issues beyond our control. If you
do not receive a response within 1 hour after you tried to contact us consider it not a successful attempt
and try again.
We assume no further liabilities beyond 24 hours from the time the shipment was received.
State and Local Laws:
Buyer is responsible for adherence to federal, state and local laws concerning animal purchases. We will
not knowingly ship an animal in violation of any local, state or federal laws.
Hyper Reptilia Guarantee:
Sex: All animals are guaranteed to be correctly sexed for 1 week from the date received.
Feeding: All animals are guaranteed feeding at our site. Some animals will come with feeding records upon request prior to shipping.
Live and healthy: All animals are guaranteed to arrive alive and outwardly healthy.
Genetics: The genetics of the animals sold here are stated at or before the point of sale. Also shows on the
invoice.
Upon buyers request, animals 100% heterozygous for a recessive gene will come with a picture ID, ID
number and brief description/explanation of genetics. The guarantee of the genetics of these animals
will be stated in the documentation that it comes with.
Guarantee applies only if it is not specifically stated.
For example - Item is sold as "unsexed"; therefore the sex of the animal is not guaranteed.
Agreement to terms:
When you purchase from us you are stating that:
You are at least 18 years of age.

You have read and fully understand our terms and conditions.

You will contact us first for any discrepancies and allow us a chance to correct it before you post it in
any media, forum or other places that can be publicly viewed.
You forfeit your right to a cash refund.